Products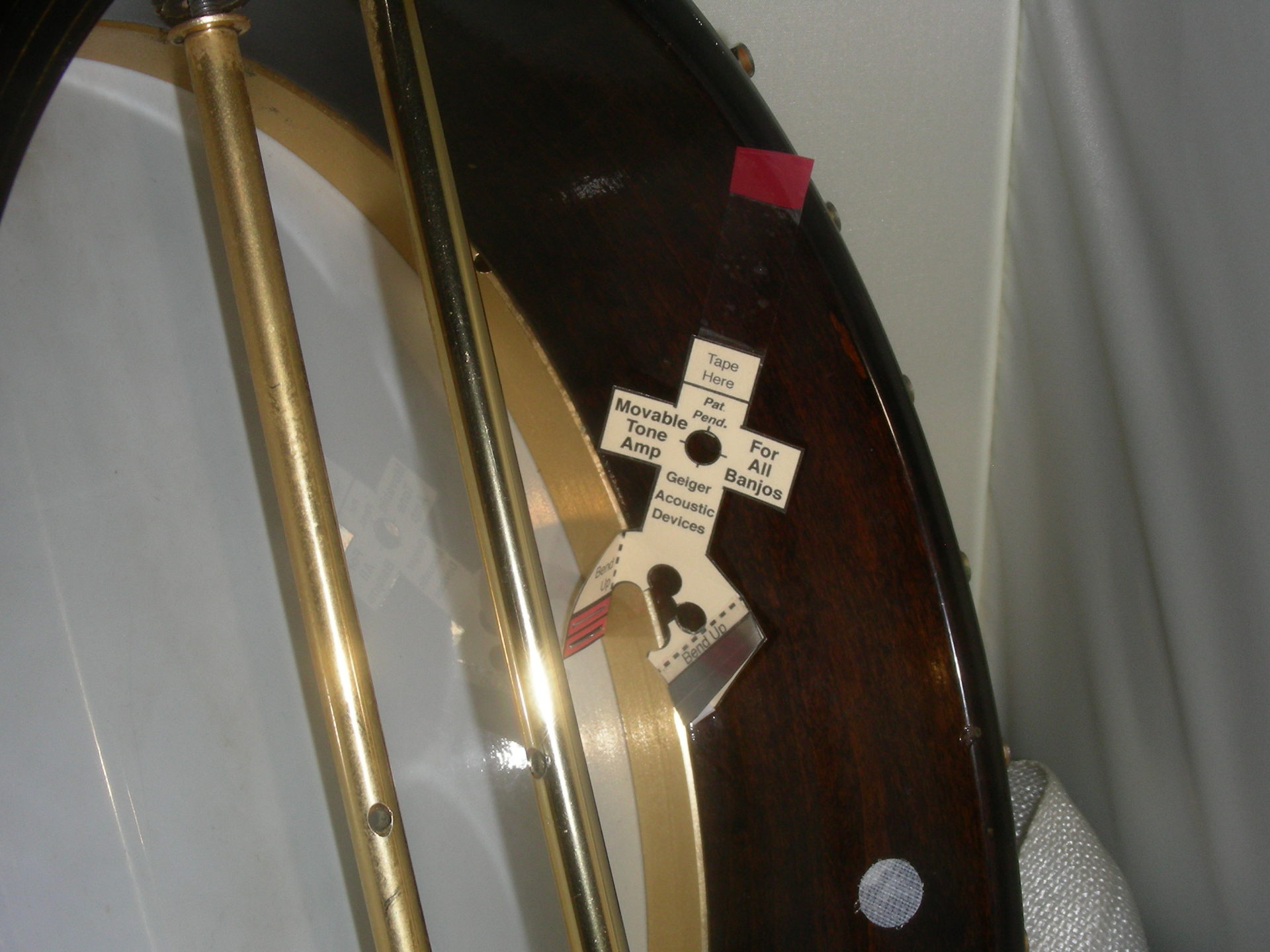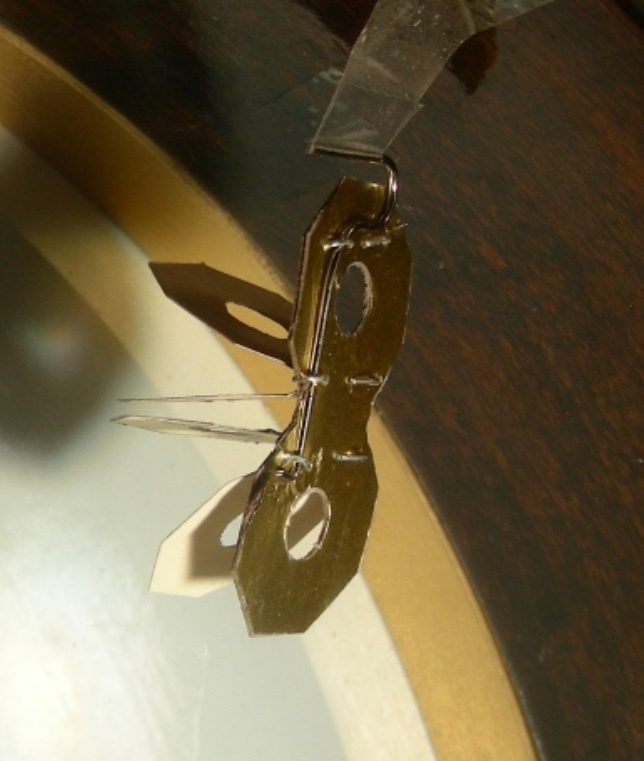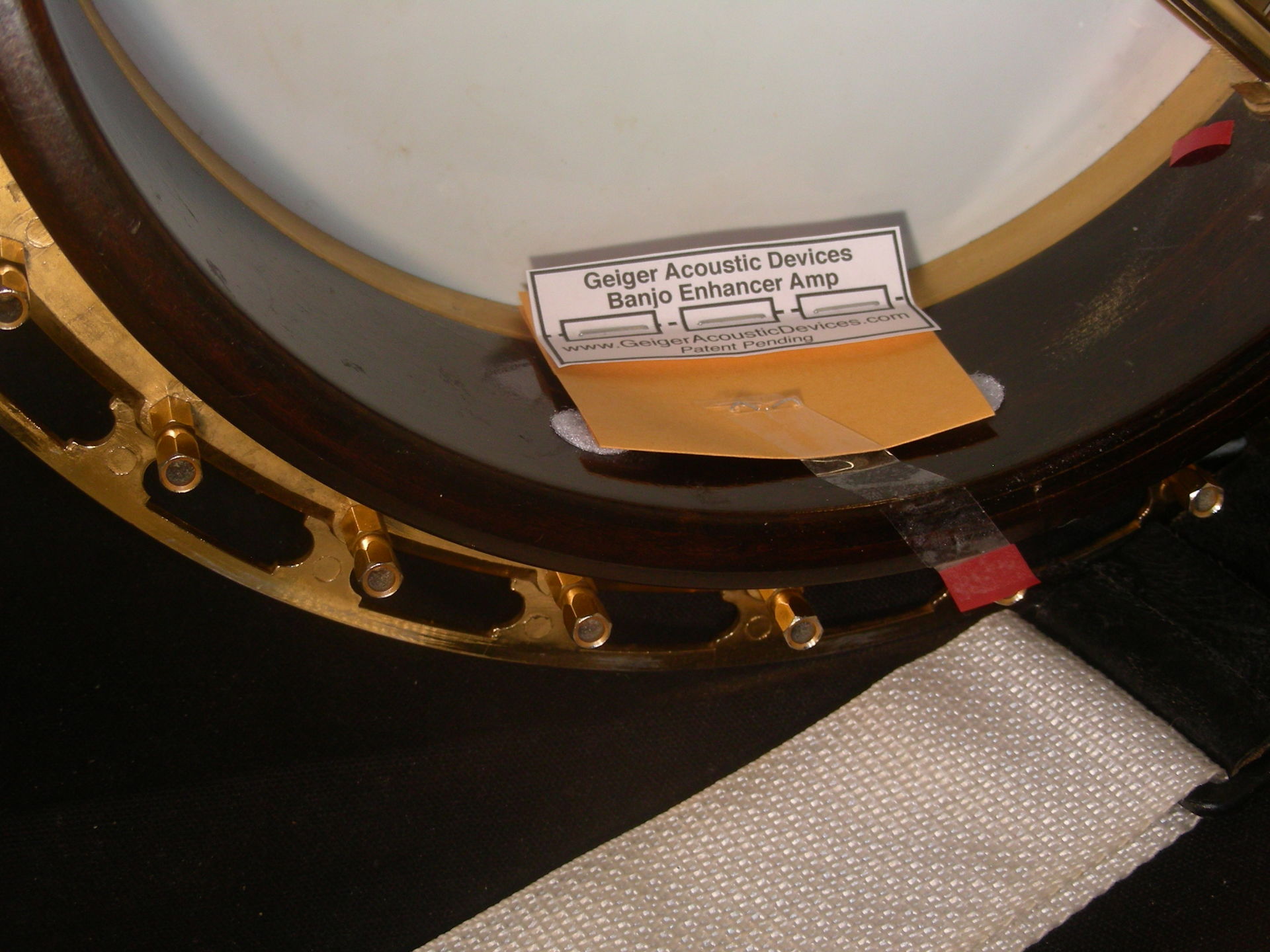 Our ​​​​

"Movable Tone Amplifier for All Banjos"

(patent pending) is only $19 USD plus $1 USD postage to U.S addresses ($2 USD to Europe).  This is our own invention (patent pending) which uses new Sound Surface Wave Technology to improve musical sound.  It  is unconditionally guaranteed to improve the sound of your banjo with increased volume and sound quality.       
     The Tone Amp ships with two pieces of extra sound surface wave input tape, detailed instructions including an explanation of how it works, and a "Travel Caddy" (pictured below) which is recommended to secure the Tone Amp in your banjo while traveling to and from gigs.  

     Since sound surface wave technology is so new you may want to read the 'Reviews and Customer Comments" page while you are here.  We also recommend that you download the "Theory and Instructions" document, (which is also shipped with the Tone Amp), by clicking its download button on the "Ideas and Downloads" page. You will learn a lot about this exciting new technology early without it costing you anything.  (You will appreciate it most when you hear what it can do for the sound of your banjo.)
     The​
"Butterfly Dream Sustaining Amplifier For Banjos, Guitars and Mandolins"
(patent pending) is also $19 USD plus $1 USD postage to U.S addresses and $2 USD postage elsewhere.  We named it the "Butterfly Dream" because it looks like a butterfly and it has the
sound of a great banjo with the sustain of a guitar
- a "dream" of ours for many years.
     The photo shows the back of the amplifier which is walnut veneer (maple is also available) which has been cut in the shape of two contiguous octagons covered and glued to thin brass foil cut in the same shape.  Two staples visible near the center hold two similar shapes of card stock, bent in a "V" at their centers, to the top surface of the veneer.  The top staple does not touch the card stock.  All three staples have one end hard crimped to a spring steel pin which attaches directly to the sound surface wave input tape (visible at the top center of the photo). The other ends of the staples touch the brass foil.
     How it works is described in detail in two downloadable documents on the "Ideas and Downloads" page of this website.  Both of these documents are shipped with the product.  The second document is a detailed, annotated drawing which should answer most of your questions about this amazing amplifier.

     Our ​

"Banjo Bass & Enhancer Amp"

 (patent pending) is the ideal companion to our Tone Amp because it improves the volume, sound quality and sound duration ("sustain") of all frequencies.  The price is only $14 USD plus $1 USD postage to U.S. addresses and $2 USD to Europe.  Its performance with our Tone Amp is far superior than the performance of either amplifier used by itself.
     Originally designed as a bass note amplifier, (the brown part in the photo), the quality of the bass notes was initially disappointing!  To improve sound quality we added a high frequency amplifier, (the white part in the photo), to amplify the harmonics of the low notes, and co-located the audible outputs of both amplifiers one on top of the other so that they would mix.  The sound was delightful!  Not only were the bass notes rich and beautiful, volume, sound quality and sustain of all frequencies were all greatly improved.  So we changed the name from "Bass Amp" to "Bass and Enhancer Amp".  You can download the"Theory and Directions" document (2-pages) free on the "Ideas and Downloads" page and read how it works with a sideview drawing.  Finally we made the price incredibly low so that you will enjoy hearing it as much as we do.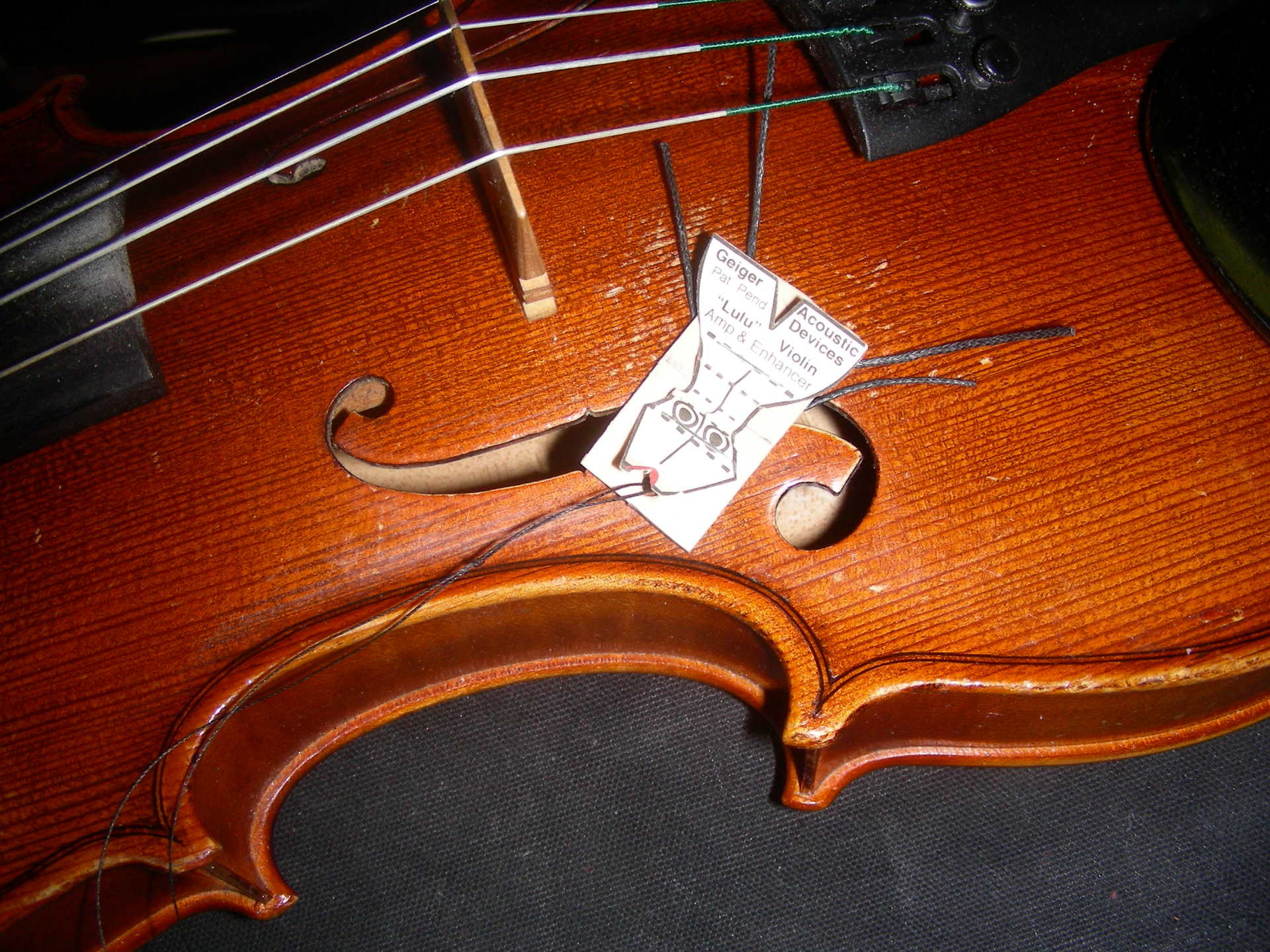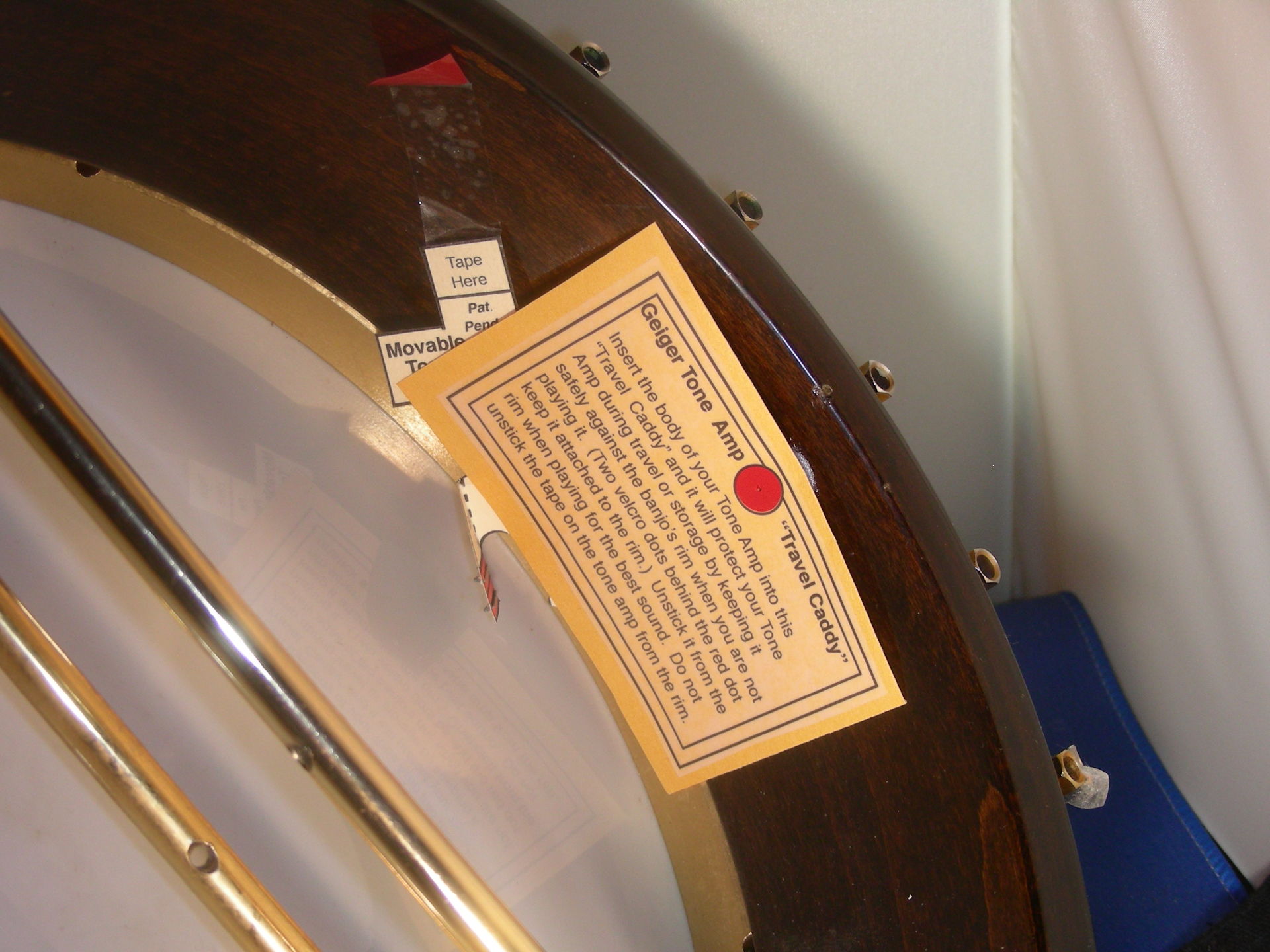 The photo above is of a "Travel Caddy" which is shipped FREE with our Tone Amp and is used to secure the Tone Amp to the side of the banjo's wood rim during travel. 
CAUTION.Do not leave the Travel Caddy stuck to the rim while playing the banjo.  Doing so degrades the sound of the banjo because the Travel Caddy will absorb surface waves from the rim.​
​​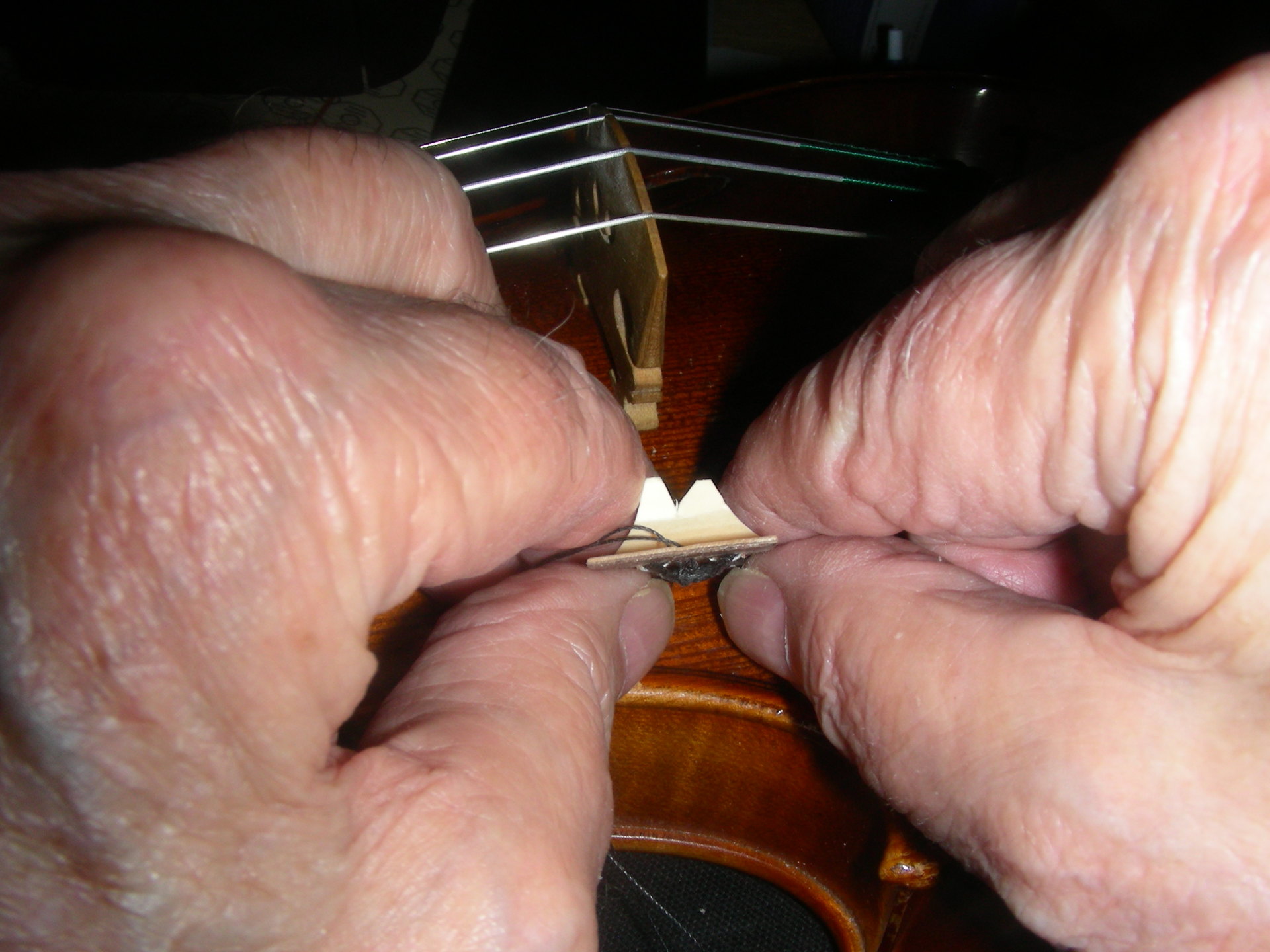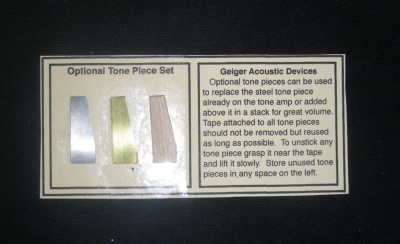 Apologies for this overexposure of our newest Amplifier and Sound Enhancer, "Lulu", ​​​​

​

(Patent Pending), for violins and violas. 

Lulu is not quite a product yet even though it makes our violin sound absolutely "heavenly" because we just discovered a new way to keep it from sliding around inside the violin and want to perfect that before offering it for sale.  But it won't be long and the wait will certainly be worth it if you love great violin sound as much as we do.  
     So, this is an advanced look at what I would say is our finest accomplishment, because "Lulu" makes our rented test violin sound like a fine violin.  It's going to make a lot of violin players and violin students (and their parents) very, very happy.
This photo shows an "Optional Tone Piece Set" which is available for customers who want to experiment with different tone pieces for use with their "Movable Tone Amplifier for All Banjos".  It consists of three tone pieces of brass, maple wood plus an extra steel.  (One steel tone piece comes attached to the Tone Amplifier.)  Price is $14 plus $1 postage.